Carbon Calculator
Find out what your carbon footprint is with our Carbon Calculator, courtesy of Food and Trees for Africa, and see what you can do to reduce your impact.
Use it to motivate you to switch off, use efficient transport such as public trnasport, scooters, bicycles or your own two feet, or to offset your emissions through the planting of trees with the Food and Trees for Africa programme.
You can input your own figures to calculate the number of trees you need to plant or you can contact FTFA if you need an in-depth assessment and audit for your company. You can then use the Carbon Standard logo once you have checked your figures with FTFA and agreed to the tree plantings. Measure, reduce, offset!
Return from Carbon Calculator to Eco-friendly Africa Travel
Search Us
Eco-travel & Lifestyles
Hi, my name is Melissa and I created this site together with photographer Christopher List to help spread awareness about green lifestyles and travel, so everyone can learn how easy it is to live in a sustainable way. Enjoy!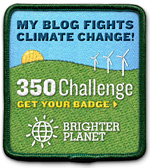 Testimonials
I wasn't sure what a permaculture design course was about, until I read through Melissa's fantastic blog! I've signed up and soon I'll be a PDC graduate too.
Kelly Richardson - Arizona
The link between personal responsibility and preserving our environment is becoming increasingly clear to me. Reading up on simple ways to be more eco-friendly in my life and travels has really helped me practice what I preach.
Dennis Howley - Namibia
I can't wait to follow Melissa and Chris' adventures in the Middle East and Africa. You guys inspire me!
Khalid Seif - Dubai